It is entirely appropriate that I came from hanging out at Noisebridge today with business cards from an Applied Anthropologist and an associate from the Institute of the Future. I also got to hang out with Dan Kaminsky and Eric Butler (of Firesheep fame). I wrote some Python, sat next to others writing Python in separate rooms (and by the side of a crowd learning machine learning, if that is a sentence). I yelled at someone, which I never do, and made up. Noisebridge drama! I worked at persuading someone that throwing out someone's entire server rack (with server) onto the streets in the middle of the weekend, was an extremely poor – but not unpermitted – choice of things to do. I marveled at the genius of visually portraying the state of the internal network by nailing it to a wall, which had been some impromptu group's impromptu project over the same weekend.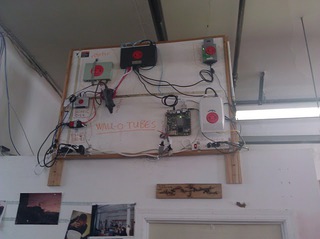 Around me ten people learned to solder, someone rebuilt the lighting system with a clutch of borrowed TED-5000s from the great Google PowerMeter shutdown , and I talked Syrian insider politics with someone wanted to teach Scratch to local kids. I gave tours to three groups, including the Applied Anthropologist, and gave the standard pitch: a hackerspace open to all, 24/7, where there was deliberately no rules and no leadership, just decision consensus and the ever-present sudo do-ocracy.
The Applied Anthropologist seemed fascinated, although really it's hard to tell how rivetted people are when I can't hear them over the rattle of my own obsessive proclaiming. I sincerely hope he is interested. I've often craved a Noisebridge in-house anthropologist, because Noisebridge is deeply, deeply culturally weird, and needs someone to unpick how it even stays in the air.
It's a hybrid of cold war Berlin radical politics, maker culture, defcon-with-issues emotionality, FSF/EFF idealism, and just San Franciscan High Weirdness. It's created press passes and space projects and mushrooms and robots. It's run like an anarchist collective, if all the anarchists were asocial individualists who try to fix problems by throwing technology at them. We put off actual anarchists, because people come to the consensus meetings with T-shirts saying "I BLOCK" and frequently improvise ad-hoc solutions with powertools. In some sort of karmic test, I once had to eject a Buddhist monk from the space.
It provokes a huge range of emotions, and not just within me. Right now, it seems like an engine for generating social ideas, both stupid and painful and inspiring and positive and strange. Lots of people burn out from it, which I totally understand; I think I have only survived this long because I am so crispy for dozens of previous burn-outs. But I watch lots of people continually burn outward from it, or who re-ignite their passions from it, or save themselves from far worse fates. Its most driven members go through huge cycles of love and hate, which I think power the place with their alternating currents. If you're in San Francisco, I'll give you a tour.